Ben Abrahamson
Guitar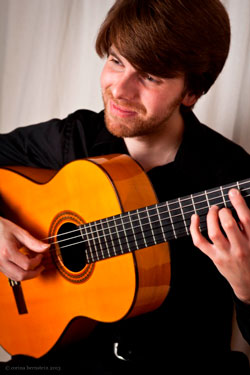 Ben Abrahamson is a dynamic and original voice on the acoustic guitar. His original compositions and finger style approach blend the improvisation of jazz, and the dexterity of flamenco. His passion for flamenco guitar drove him to Taller de Musics School of Music in Barcelona, where he studied under Juan Ramon Caro.
Ben has composed works for the Minneapolis Guitar Quartet, Zorongo Flamenco Dance Theatre, MacJazz big band, Muhlenberg College Theatre and Dance Department, and a 100-piece youth guitar orchestra at the 2016 Strut Festival. Ben has shared the stage with mentors Michael and Tony Hauser, Susana di Palma, La Conja, Chuscales, Pedro Cortes Jr., Joan Griffith, and Gary Lee Joyner. Ben performs regularly with groups like Lulu's Playground, Zorongo Flamenco, and the Thomas Nordlund Quintet.
Ben graduated with a B.A. in music from Macalester College and has taught private lessons and group classes at Minneapolis Community & Technical College, the Linden Hills House of Music, the St. Paul Guitar Studio, St. Joseph's School of Music, and the DVCC Performing Arts Camp in Media, PA. Lessons are available for all levels of experience and are based on a foundation of curiosity, respect, and openness.